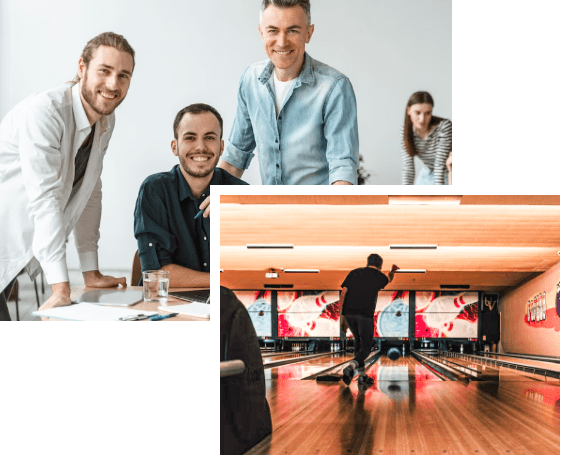 Welcome to Invision Solutions, where we believe in fostering a vibrant and uplifting work environment. Our company is built on a foundation of professionalism, collaboration, and continuous growth. Join our team and experience the power of good mentorship and guidance from our esteemed senior professionals, who are passionate about helping you succeed. At Invision, we understand the importance of work-life balance, and that's why we encourage our employees to unwind and recharge through a variety of recreational activities. From team-building outings to annual and quarterly events, we celebrate our achievements and create lasting memories together. In addition to a competitive salary, we offer bonuses that recognize your hard work and dedication. So come and thrive in our relaxed and supportive atmosphere, where your potential can truly flourish.
See What our
Employees Say about Invision.
Over 50% of our employees have been with us for more than 5 Years while some employees are with us since inception.
Sarah, Senior Developer JS
Invision Solutions
has been an incredible workplace that has exceeded my expectations. The positive and collaborative environment here has allowed me to grow both personally and professionally. The mentorship and guidance from senior professionals have been invaluable in shaping my career trajectory. I feel fortunate to be part of a team where ideas are encouraged, and everyone's voice is heard. Moreover, the company's commitment to work-life balance is outstanding. Whether it's participating in recreational activities or attending engaging annual events, Invision truly understands the importance of fostering a well-rounded employee experience. I couldn't be happier to be part of this dynamic and supportive organization.
Muhammad, React Team Lead
"Working at Invision Solutions has been an incredible journey. The professionalism and dedication of my colleagues inspire me to push boundaries and deliver exceptional results every day. The senior professionals at Invision have been instrumental in guiding me toward achieving my career goals. They have provided me with valuable insights, feedback, and opportunities for growth. What sets Invision apart is the strong sense of camaraderie among employees. From team-building activities to quarterly events, there are ample opportunities to connect with colleagues and foster meaningful relationships. The company's commitment to recognizing our hard work through bonuses is also highly motivating. Invision Solutions truly provides a nurturing and enjoyable work environment, making it a fantastic place to thrive." Read More
I have been with Invision Solutions for over three years, and I can confidently say that it has been the best career decision I've made. The work atmosphere is exceptional, where professionalism and collaboration go hand in hand. The senior professionals here have been outstanding mentors, always available to provide guidance and support whenever needed. The company's commitment to employee well-being is evident through various recreational activities and events that create a sense of camaraderie among team members. Invision Solutions also recognizes and rewards our hard work through bonuses, which further motivates us to excel. It's incredibly fulfilling to be part of an organization that values both personal and professional growth. Invision Solutions has truly created a relaxed and supportive environment that fosters success, and I'm grateful to be a part of it
Discover the right career track.